SmallTalk™ Family of Video and Communication Apps
Focused and effective video apps for practicing communication exercises.
Picture-based vocabulary of words and phrases help improve communication.
Learn About AAC and Speech-Generating Devices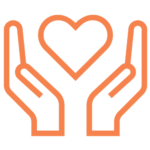 Lingraphica Can Help
We offer free one-on-one consultations to SLPs, caregivers, and people with aphasia who want to improve communication, but aren't sure where to start. Call us now at 888-965-6005 or schedule a call.