National Aphasia Organization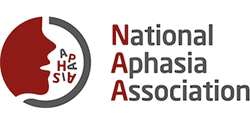 The National Aphasia Association (NAA) is a non-profit organization founded in 1987 by Martha Taylor Sarno, MA, MD,(hon) as the 1st National organization dedicated to advocating for persons with aphasia and their families. Several of our board members, including the President, are people with aphasia or family members.
Our goal is to provide access to research, education, rehabilitation, therapeutic and advocacy services to individuals with aphasia and their caregivers. The NAA acts as a syndicate of resources, promoting sense of community among individuals and caregivers.
The Mission of the NAA is to promote public awareness and understanding of aphasia and provide support to all persons with aphasia and their caregivers.
The NAA envisions a society in which aphasia is a commonly understood word and where all persons with aphasia, regardless of individual differences, their families, health professionals, and the public have access to appropriate education and resources that would enhance their potential for an acceptable quality of life.